Tofo Mozambique is a coastal town situated in the South Eastern part.
The IT place for Marine Megafauna, such as manta rays, whale sharks and migratory humpback whales.
This lively town is also known for the beautiful curving beach that offers great snorkeling, diving and surfing. 
Interested in visiting Tofo? Read on for more details.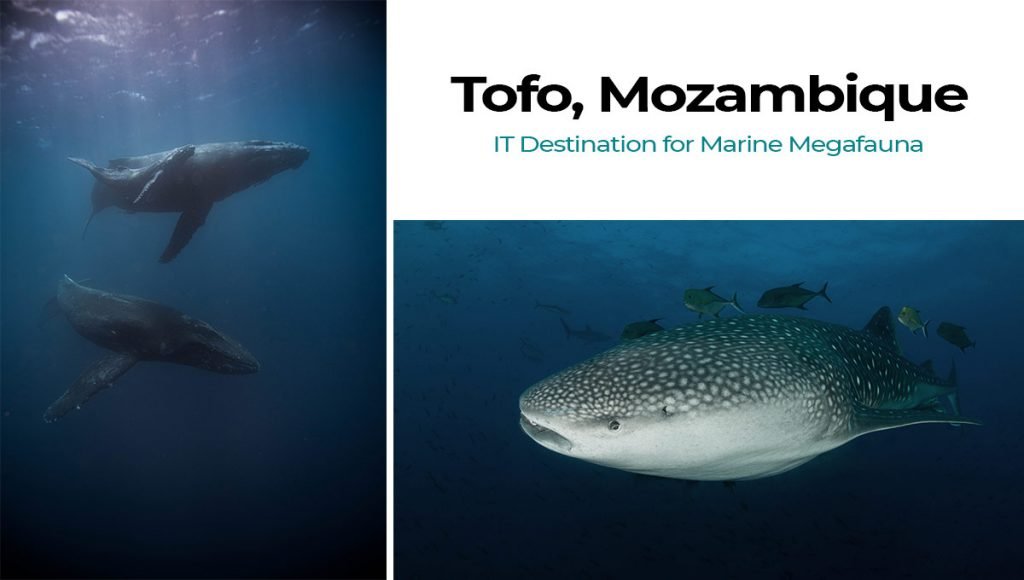 How to get to Tofo Mozambique
This all depends on where you are traveling from, as there are many ways to get to Tofo Beach.
However, there are options to fly into either Maputo Airport or Vilanculos Airport and either drive or get transferred to Tofo from there. 
Another options is to self-drive from South Africa.
What are the distances?
9 hours' drive from Ponta do Ouro or from the Komatipoort border.
7/8 hours from Maputo Airport.
3/4 hours from Vilanculos airport.
But if you need some advice on which route would be best, get in touch with one of our travel experts to help plan your next trip to Tofo Mozambique.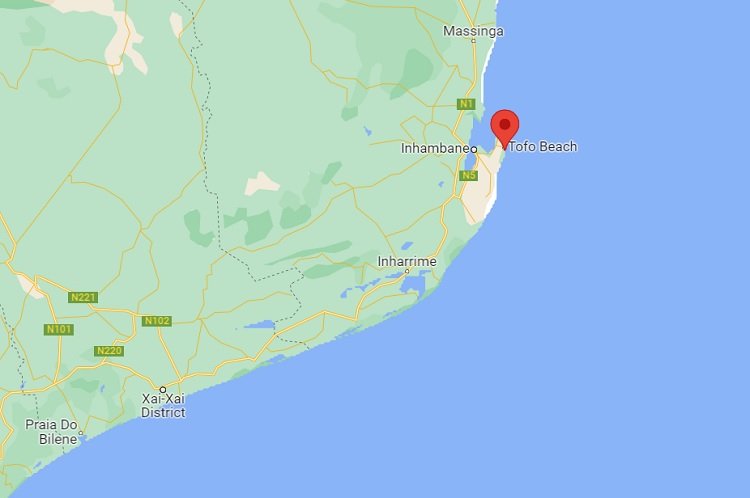 Diving in Tofo Mozambique
This world class diving destination remains an untouched gem.
Firstly, this diving destination is all about the 'Big Stuff'.
There are not many dive destinations where one can spot humpback whales, manta rays, whale sharks, sharks, turtles, rays, and dolphins on one trip.
Secondly, big schoolings of game fish can be spotted in the mid water as well.
Above all, the beautiful reef structures houses a lot of other marine life as well, such as eels, nudi branches, many smaller critters and reef fish.
The best time to dive and visit Tofo Mozambique?
Tofo can be dived year-round and depends on what you want out of the experience.
For instance, rainy season is January to April, however the rain does not tend to affect the visibility and tends to calm the surface down.
August to September are the windier months which can affect the surface conditions a little bit more. 
The Humpback whales are spotted during the winter season (June to October)
To sum up, our favorite time to visit is April to July as these are the quieter months. As a result, the dive sites are not as busy, the visibility is good and the surface conditions are calm. 
And the big stuff is still around, with water temperatures around 25-28 degrees. 
What to expect from the diving
Me and my team dived Mozambique a few times and do regular visits. However, last year September we did a full month trip and stopped in Tofo for some diving!
During our visit, we stayed and dived with Liquid Dive Adventures. For a quick overview of what to expect, check out this video.
Tofo Mozambique is a Mission Blue Hope Spot
For the last 20 years, Dr. Andrea Marshall from Marine Megafauna Foundation has dedicated her life to protect the endangered marine megafauna species and in 2021 the Inhambane Seascape in Mozambique has been recognized as a Mission Blue Hope Spot! 
Dr. Sylvia Earle from Mission Blue says, "Mozambique as a country has already taken significant actions to safeguard the extraordinarily rich, highly important life along the coastline. Everything is on the line.
There's an opportunity now to significantly scale up and embrace those areas that are already protected with a larger area along the coast that connects the land with the ocean beyond.
I particularly want to salute Andrea Marshall and her team at the Marine Megafauna Foundation⁠—they work with so many large creatures that are so important and so threatened.
We're on the edge of losing them forever unless action is taken now."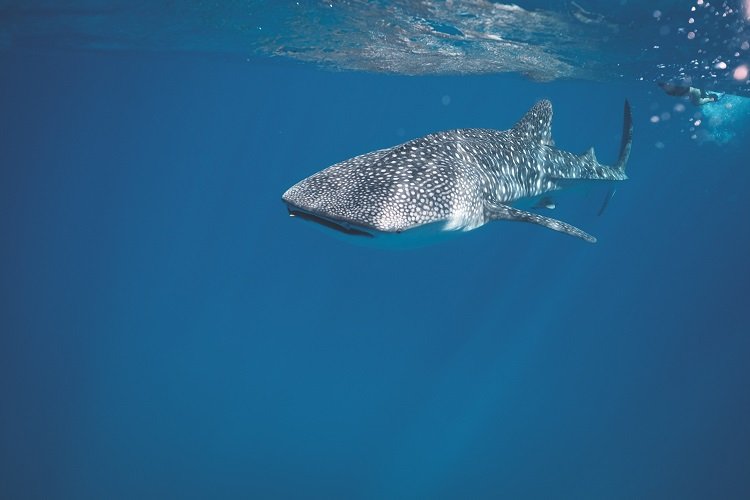 There are quite a few different accommodation, dive center and resort options available in and around Tofo Beach. 
Options that suits groups, friends, couples, families and even singles.
However, here is a short list of our favorite and most booked options.
The dive dive center with accommodation on site.
Liquid dive adventures is located on Tofo beach and is walking distance to all the best restaurants and the Tofo market.
Owned by Satu and Jari since 2014, this special spot has 11 beach front bungalows, an onsite vegetarian restaurant – Happi and a world class PADI Dive Center.
That is to say that the Liquid Dive family go above and beyond to make you feel welcome.
They offer reef dives, snorkeling, whale watching, freediving an ocean safaris.
Jari, co-owner is their onsite PADI Course Director and together with the rest of their professional team they run all PADI courses and internships.
Peri-peri divers flaunts its newly tailor-built dive center in Tofo and strives for a personalized dive experience.
They have a 5m deep training pool and offer SSI Scuba diving courses, Freediving courses, reef dives, snorkeling and ocean safaris.
Most importantly Peri-Peri divers and the Marine Megafauna Foundation have been close partners for over 10 years.
As a result, supporting the conservation of Tofo's ocean ecosystems and marine life.
They offer Free Nitrox and free popcorn (a perfect post dive snack!)
The linked accommodation – Casa do Mar is off site and is situated 10m from Tofo Beach.
It has a stunning views over the bay and has a total of 10 rooms available. Casa do Mar has an onsite restaurant with a lovely pool area.
Tofo Scuba is a PADI 5 Star Dive resort situated on Tofo main beach.
They offer reef dives, ocean safaris, snorkeling, PADI Diving courses and year-round Marine research internship and volunteer opportunities.
In addition, Tofo Scuba has an onsite restaurant and beach bar.
Their off-site accommodation option is situated 5min up the beach – Tilak Lodge.
Tilak Lodge consists of 12 rooms, an onsite restaurant with a stunning ocean view (a great sunset drink spot).
Above all, the rooms are ensuite with a coffee station and beautiful modern bathroom.
Still haven't found an option that suits you?
Some general info…
What is Tofo Beach known for:
Tofo beach is known for its lively atmosphere, vibey Mozambican style restaurants and markets.
Along with various reefs that house an array of marine life, but they are most famous for spotting manta rays and whale sharks which makes Tofo beach a must diving / snorkeling destination.
Tofo Beach has a great surf scene that suits all surfing levels; the bay is great for beginners and the point is suited for more advanced surfers.
Is Tofo beach safe:
This friendly beach town is very safe and you can walk around day and night.
Of course, as with any country it is always a good idea to be vigilant and take safety precautions.
However, Tofo is a safe area and full of very warm and welcoming people.